Where's the Beef ?

If you're looking to purchase some good Highland Beef,
quantites have been rather limited but this year we should have a bit more to sell.
Our customer base has been increasing each year with word of mouth being our best advertisement.
Our animals are raised naturally on pasture and hay and are given some grain during the winter,

the "old fashioned way" without growth hormones, antibiotics or animal by products.
When they are ready, they are butchered at a local provincially inspected abbatoir.
We have been selling our meat as mixed quarters
or by the pound in $50 - $125 packages for those wanting to give it a try.




At present we have a good supply of beef in stock,




please give us a call or email us if you are interested in purchasing some.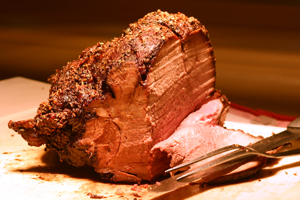 Highland Beef is quite lean and flavourful.

The animal's heavy coat insulates against the climate and reduces the need to develop excess back fat.
Recent studies in both North America and the UK have shown that Highland Beef is consistently much lower in fat content and cholesterol than other breeds. It is so lean that it compares with chicken and fish fat content.
The marbling of the beef gives the same tenderness and tastiness as the other cattle breeds.


Studies in the UK list the quantities of fat per 100 grams as:
FAT CONTENT Highland Beef Overall 4.5 g/ 100g
Other Breeds Beef Overall 15.6 g/ 100g
CHOLESTEROL CONTENT Highland Beef Overall 40.9 mg/100g
Other Breeds Beef Overall 64.3 mg/100g
PROTEIN Highland Beef Overall 20.7 g/100g
Other Breeds Beef Overall 18.6 g/100g
IRON Highland Beef Overall 2.1 mg/100g
Other Breeds Beef Overall 2.0 mg/100g
Scottish Agricultural College, Dept. of Food Science and Technology published by McCance & Widdowson, Ministry of Agriculture, Fisheries and Food.
Two brochures produced by The Canadian Highland Cattle Society that I believe are no longer available.
Click on each image to view a .pdf file of each brochure.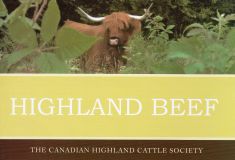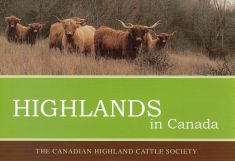 © 2005-2018 Thistlestone Farm
Home
|
About Us
|
Halters • Neck Ties • Leads
| The Fold | Links
|
Our Beef